Whilst all house relocations our team complete are important, we made a special delivery to the Somerset Region on the night of the 12th of November 2020.
Our team left our Narangba depot at midnight, travelling in convoy up the Bruce Highway with 2 sections of precious cargo in tow. The two sections of home embarked on a journey to Dundas, Qld to take their new and final position upon Tom Dunning's land. Tom's beloved family home of over 60 years had tragically burnt down earlier this year in May. Tom had also suffered a huge loss, when his beloved wife Lorraine passed away 2 months earlier and to make matters worse Tom had just taken another blow, discovering that he had prostate cancer.
I was scrolling on social media when I came across a post that his daughter-in-law Sonja had posted asking for help. Tom being the humble man he is would not leave behind his wife's animals and chose to stay on the farm and live in a shed with only the mere clothes on his back. There was an immense outpour from his local community to support Tom, many donating clothes, money and items to make his life easier whilst he rebuilt. Even the Somerset Regional Council through the St Vincent De Paul Society donated a water tank and pump to Tom.
I received a phone call a month or so later from a builder who had a client that had lost their home to a fire and was looking for a removal home. When he mentioned the road and suburb it was to be delivered to I instantly recognised the address as we had sent Tom a care package with shirts and beanies.Tom ultimately purchased a lovely 3 bedroom home from us known as Limstone, he chose Limestone as it was a similar era to the home he had so tragically lost.
On the morning of delivery, Rob and myself made our way to Tom's farm to meet the man we had heard so much about although were yet to meet in person. When you met Tom you instantly know why he is a much-loved member of his community, he is a true blue Aussie farmer with a heart of gold. Tom even with all his battles is still working and soldiering on at 74 years old. To Rob's surprise, he had met Tom many years ago when delivering a home for him out to Fernvale with his Father and Brother. While chatting to Tom he shared with us that remarkably, his wife's ashes were recovered from the remains of his family home, an encouraging win for Tom considering the devastating year he has had.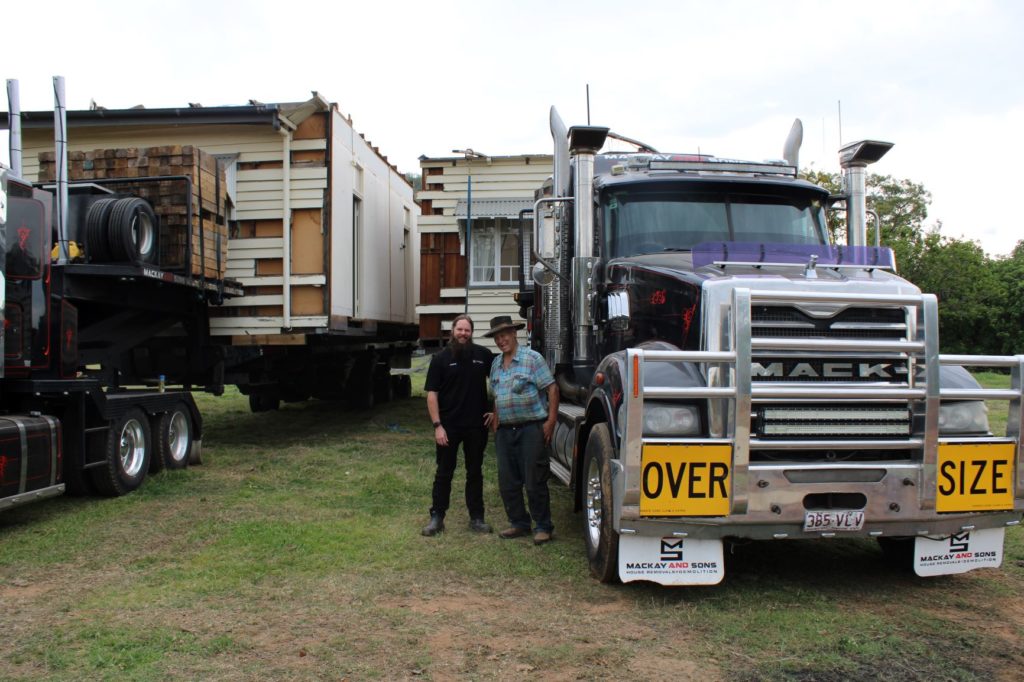 From all of us at Mackay and Sons, from the office staff, onsite team, and management we are very honoured to be a part of Tom's relocation.
We wish Tom all the best and hope that he creates many happy memories in his new home.
– Kristy Mackay